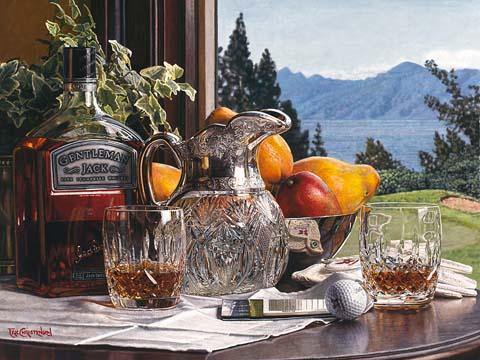 Another Round
Original price
$1,400.00
-
Original price
$2,310.00
Dimensions:  24" x 32", 30" x 40", 36" x 48"
Medium:  giclee' on canvas
Edition Size:  100 small, 150 medium, 75 large
Availability:  Available
Please contact us for information on framing the larger size of this item
What makes golf a gentleman's game? Hard work and a refined character lead to a higher level of distinction. The summer sun, the smell of earth and grass, and perpetual gratitude for straight shots add up to make the finish particularly smooth. Even though the hazards were artfully averted, you yearn for the nearest point of relief and find it at the clubhouse -- in a cut crystal glass of amber beauty. As you sit back and relish in your foursome's performance, you wonder if there's enough time for "Another Round"?