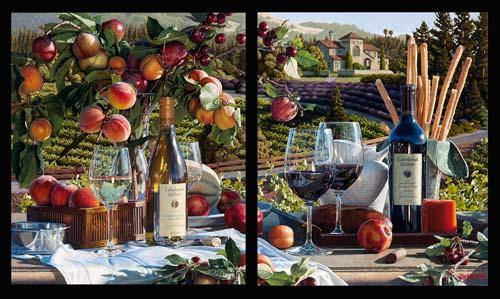 A Cake Walk
Original price
$1,440.00
-
Original price
$3,305.00
Dimensions:  21" x 18", 28" x 24", 35" x 30"
Medium:  giclee' on canvas
Edition Size:  60 small, 150 medium, 60 large
Availability:  Available
Inspired by a recent trip to France where Versailles, Le Louvre, fine wine and food all compete for center stage, Eric Christensen has created a new masterpiece that reflects his recent travel experiences. Too many delights to fit into a single painting, this new creation is a diptych of unequalled beauty. Imagine yourself strolling along the secluded pathway - from the beautiful Chateau in the distance past the hillside cloaked in lavender. As you amble toward the quiet country road, you notice the vineyards in their bright green summer garb. When you arrive at your destination, you discover a table laden with Summer's abundance – fuzzy peaches, glistening nectarines, cherries ready to pick off the branch with a fresh baguette and bright orange pride of France - Mimolette cheese. The table presents some of the regional favorites of Cabernet Sauvignon and Chardonnay to sip as you watch the sun set below the distant mountains. It's easy to see why this lovely journey is simply "A Cake Walk"!